Twenty One Pilots Surprise Teens in Hospital With a Special Performance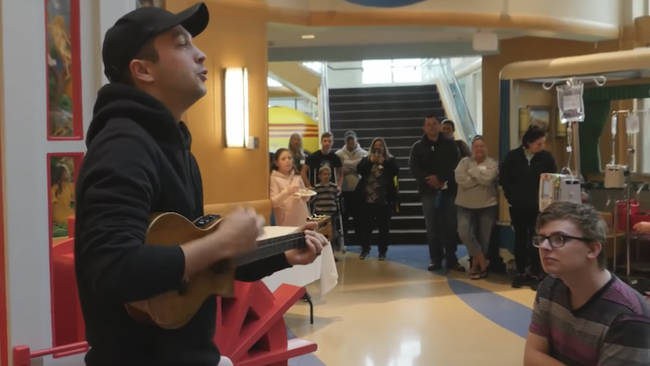 Twenty One Pilots set off on their Bandito Tour last week to support their new album, Trench, and added one very special show to their schedule.
While in St. Louis for a gig at Enterprise Center on Friday (October 19), Tyler Joseph and Josh Dun stopped by Cardinal Glennon Children's Hospital to visit some important fans who unfortunately wouldn't be able to attend their concert that night.
Equipped with a ukulele, Joseph played an acoustic version of "We Don't Believe What's On TV" from 2015's Blurryface to a crowd of patients and hospital staff. He got the audience involved, encouraging them to help him sing some "yeahs." After the intimate performance, the duo chatted with patients and signed autographs.
"Music's gotten me through hard time," Dun explained, "and coming and seeing what some of these kids, you know, battle every day — and using music — you know, makes me feel emotional."
The band's visit came after the hospital's music therapist and a group of patients filmed a video inviting Joseph and Dun to visit while singing Elvis Presley's "Can't Help Falling in Love" — a song Twenty One Pilots have famously covered.
Inside Edition joined the duo and filmed a segment on their heartfelt visit. Watch the full video below.